Are you a
long term headache sufferer
concerned about how much medication you are taking
and its possible effects on your health?

Are you fed up with
trying lots of unrelated tips and suggestions
from books or the web without success?

Sick of purchasing products promoted as
natural headache remedies or instant cures
which don't fulfil their promise?


Perhaps you don't get headaches yourself but have a family member or friend who does and you would like to be able to offer genuine help.

The eBook Stop Headaches Naturally takes
a systematic approach to stopping headaches without drugs.
All strategies are based on a simple model for the headache process and how headache pain arises. This involves a combination of what we have termed
musculoskeletal, neurovascular and emotional factors
and it works equally well for tension headaches and migraines.
Tension headaches and migraines both involve a combination of what we have termed musculoskeletal, neurovascular and emotional factors
This book is aimed at the headache sufferer who really wants a better understanding of why they keep getting headaches and just what they can do to prevent and remedy them.

As a Sports and Remedial Massage Therapist I too have seen many clients present with headaches over the years due to a variety of factors. Stop Headaches Naturally provides a practical guide to managing and understanding the causes behind some of these headaches. It takes the reader through step by step to help them understand and identify aggravating factors, and also provides them with clear and effective self management advice. If you suffer from headaches, this book is for you!
Anne Harry (Sports & Remedial Massage Therapist)
"Stop Headaches Naturally" interprets and distils a broad and often conflicting specialist literature into a lucid, interesting and helpful account suitable for a wide readership.
Professor Jennifer Rolland
Stop Headaches Naturally is a definitive resource for the sufferers of chronic headaches and migraines. The book is easy to navigate, uses clear language and incorporates plenty of diagrams and references to back it up. More importantly, the solutions are proven, easy to implement and do not involve toxic substances.
Tara Doherty
Stop Headaches Naturally is an extensive resource for the treatment of headaches. This e-book has highly valuable information with a pro-active awareness and educative approach to treating headaches and migraine. As a sculptor and equestrian my work is physically demanding and many of my muscles are stressed. Understanding how I can better manage my musculoskeletal health and lifestyle has helped reduce my headaches. I have particularly found the information on posture and stretching fundamental to improving my awareness of the stresses and demands I place on my body.
Helen L Alexander BA BHSPT
What a fabulous tool you have created to help people manage their headaches naturally, without resorting to medicine. It is easy to follow, comprehensive and accessible on all platforms. Fantastic effort!
Sian Searles


Stress is one of the
main triggers for headache pain
. Learn how to recognise and manage it is an important strategy for preventing headache and migraine pain.

Download this free copy of Freedom From Stress written by Pablo Tymoszuk and learn how to deal with stress and stop it from recurring.
included with the purchase of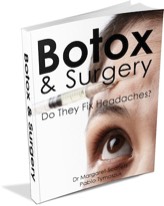 Botox & Surgery?
Do they fix headaches?
Beware the hype...


This supplement to Chapter 9 examines these two recent and much-hyped techniques which treat the muscles to prevent and cure migraines.

Find out:


Botox is

no miracle cure

for headaches and migraines

What is the rationale for injecting Botox into face and scalp muscles

How does Botox act as a migraine preventative

Which muscles are injected in attempt to stop headaches and migraines

Do Botox 'points' coincide with trigger points in the face and scalp muscles

Does it work? Is it a bonafide remedy? Is it worth the risk and expense?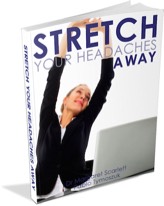 Stretch Your Headaches Away


Stretch Your Headaches Away e-Book contains detailed instructions and photos for a suite of exercises designed to prevent headaches, maintain the effects of manual therapy treatment and improve postural imbalances.

Discover how to:


Stretch specific muscles that contribute to your headache pain

Incorporate diaphragmatic breathing into your stretches

Assess and improve spinal posture

Correct forward head posture with a simple two part exercise

Apply isometric neck strengthening exercises

Stretch progressively on exhalation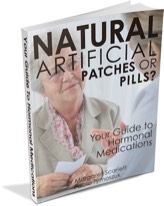 Natural or Artificial, Patches or Pills?
Your guide to hormonal medications


Provides detailed information on hormonal contraceptives and hormone replacement therapy. It extends the material in Chapter 4 on the connection between female hormones, headaches and migraines.

Topics include:


How hormonal medications differ

Forms of estrogen and progesterone that occur in the body

How estradiol and progesterone are modified to increase blood levels

Disadvantages of oral delivery of estradiol and progesterone for HRT

Natural, bio-identical hormones - see through the marketing hype

Interpret the risk of HRT: looking beyond the media sensationalism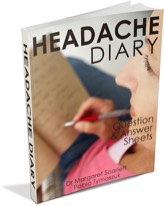 Headache Diary
Questions & Answers Sheets


The Headache Diary e-Book is a stand-alone e-Book which is a companion to the main e-Book "Stop Headaches Naturally".

A series of questions help you record, summarise and interpret information about your headaches. Pre-formatted question and answer sheets which you can print out guide you through the whole process.

The Headache Diary also provides all the necessary background information to fully understand the significance of the questions and answers.

Perhaps you have concluded that red wine triggers your migraines and that eliminating it from your diet you will help you cure them. But could it be something else? The headache diary will help you to check and find the right remedy for your pain.
STOP your headache & migraine pain without drugs...
Don't keep wasting your time and money -
the
only effective remedy to cure
your headache and migraine pain is to
treat the cause not just the symptoms
.


When you purchase the Stop Headaches Naturally eBook you will also receive 4 BONUS FREE eBooks (includes the Headache Diary) and you will discover
easy, safe and proven alternatives to drugs
for headache and migraine pain relief.

Now you can reclaim your life, improve your health and wellbeing and begin to
live a life FREE from headache and migraine pain.