Are you a
long term headache sufferer
concerned about how much medication you are taking
and its possible effects on your health?

Did you know that taking painkillers for a prolonged period, even at the recommended dose, can
cause serious damage to your gastrointestinal tract, liver and kidneys.
What's more,
taking painkillers regularly can actually cause the very thing you are trying to stop - headaches!
Perhaps you don't get headaches yourself but have a family member or friend who does and you would like to be able to offer genuine help.


The eBook Stop Headaches Naturally presents a range of strategies for stopping headaches and migraines without drugs. All strategies are organised in a systematic manner and backed up by references to the scientific literature.

And best of all, they work! There are no magic cures, but most headache sufferers will benefit from treatments like manual therapy. So you should be able to
find something in the book that works for you.
What do we mean by 'natural'?
The word natural means different things to different people. It is often used as a marketing tool by manufacturers of dietary supplements or herbal remedies to promote their products.

The implication is that natural is safe, however clearly this is often untrue (think rattlesnake venom). Many of these products have unwanted side-effects, just like mainstream pharmaceuticals.

We use terms such as natural therapy and natural remedy to mean
non-drug treatments for headaches.
The methods we discuss are
scientifically based
and are very low risk. Some are very simple – the skill is in knowing when they are likely to be most effective.






All strategies are based on a simple model for the headache process and how headache pain arises. This involves a combination of what we have termed
musculoskeletal, neurovascular and emotional factors
and it works equally well for tension headaches and migraines.

This eBook is aimed at the headache and migraine sufferer who really wants a better understanding of why they keep getting headaches and migraines and just what they can do to prevent and remedy them.

That is why we have tried to use simple language and avoid unnecessary medical jargon. However we think the book is sufficiently comprehensive that it will also be useful to health-care professionals.
I am very impressed with the book. It's thorough, well written, clear and concise. Should be a read for every student and practitioner.
Dr Glen Bales (Osteopath)
As a psychologist we cannot prescribe medication, leaving us the often difficult task of finding alternative and natural strategies and solutions to assist clients in managing a variety of conditions. 'Stop Headaches Naturally' has proven an invaluable resource to both educate and assist my clients.
Jacqui Louder (Psychologist)
Provides a holistic approach to the common presenting problem of headaches. It not only considers the potential causes but the role of manual therapy and other alternative therapies in headache pain management.
Dr Joseph P. Ackland (MBBS, BHS, BPD, BArch, RAIA)
A comprehensive job on covering this debilitating condition, providing lots of guidance and solutions.
Patricia Bernard
"Stop Headaches Naturally" interprets and distils a broad and often conflicting specialist literature into a lucid, interesting and helpful account suitable for a wide readership.
Professor Jennifer Rolland
A practical guide taking the reader through step by step to help them understand and identify aggravating factors, providing a clear and effective self management advice. If you suffer from headaches, this book is for you!
Anne Harry (Sports & Remedial Massage Therapist)
Stop Headaches Naturally is a definitive resource for the sufferers of chronic headaches and migraines. Easy to navigate, uses clear language, incorporates plenty of diagrams and references to back it up.
Tara Doherty
I have utilised the headache diary heavily for my clients, and found it easier to lead them in the direction of non-drug management through better and more appropriate education offered in this book.
Jacqui Louder (Psychologist)
Highly valuable information with a pro-active awareness and educative approach to treating headaches and migraine. Understanding how I can better manage my musculoskeletal health and lifestyle has helped reduce my headaches.
Helen L Alexander
What a fabulous tool you have created to help people manage their headaches naturally, without resorting to medicine. It is easy to follow, comprehensive and accessible on all platforms. Fantastic effort!
Sian Searles
The
800+ pages
of the eBook Stop Headaches Naturally are packed with information and fully illustrated with
colour diagrams and photos.
All material is systematically organised. Links make it very easy to navigate around the book and to dip into sections of particular interest to you.

STOP your headache & migraine pain without drugs...
Ensure your time and money is well spent -
the
only effective way to
remedy
your headaches and migraines pain is to
treat the underlying causes.

Painkillers are no
cure
- all they do is treat the symptoms.


As we mentioned earlier, there is a down side. Taking painkillers for a prolonged period, even at the recommended dose, can cause serious damage to your gastrointestinal tract, liver and kidneys. What's more, taking painkillers regularly can actually cause the very thing you are trying to stop - headaches!

When you purchase the Stop Headaches Naturally eBook package you will discover
easy, safe and proven alternatives to drugs
for headache and migraine pain relief.

Now you can reclaim your life, improve your health and wellbeing and begin to
live a life FREE from headache and migraine pain.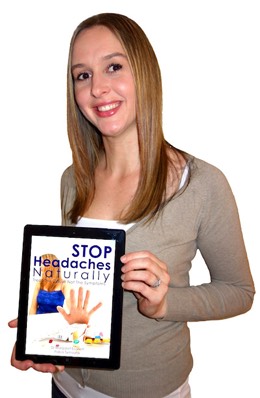 Stop Headaches Naturally
eBook Package