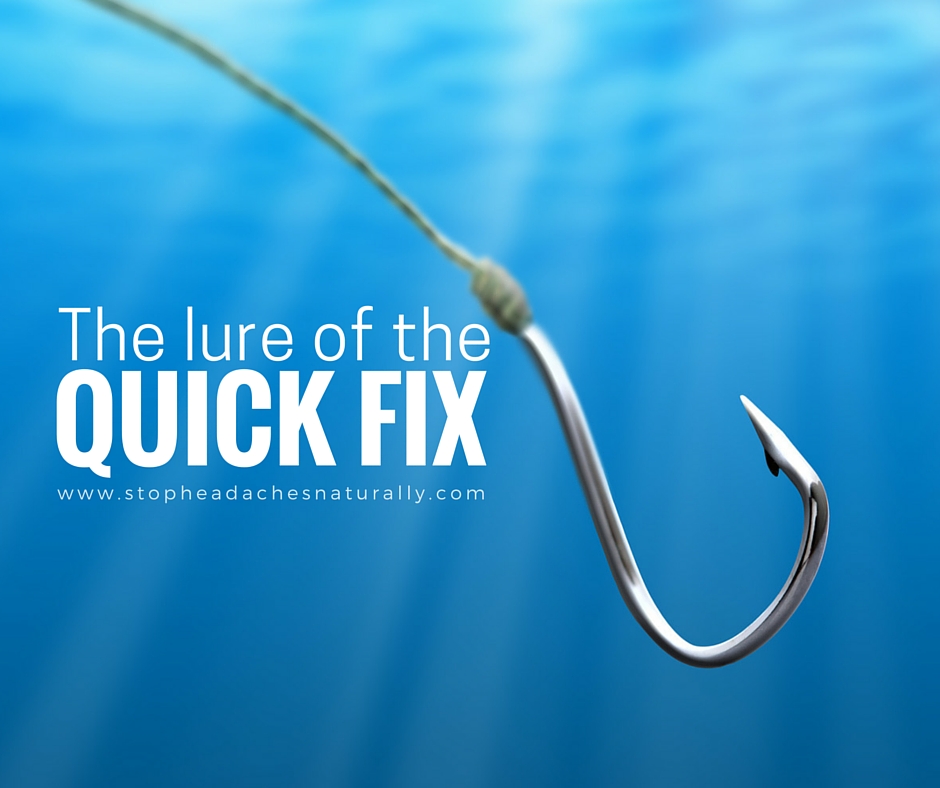 Our pre-occupation as a society with the short term quick fix is one of the factors responsible for over-reliance on pain-killers.

When time is money and a "can do" attitude is paramount, we may feel we can't afford to be ill or to be functioning below our best.

Instead of taking time out to look after our health, when something goes wrong we look to medication to fix the problem.


"We look to medication to fix the problem"


The following quote typifies the "pop a pill and forget it" attitude that is so prevalent:

"It's never a great start to the day when you wake up with a pounding headache. Fortunately, help is often as close as your medicine cabinet. You can pop a couple of aspirin, close your eyes, and, in all likelihood, that throbbing in your head will be soothed within the hour.

You're in good company in your choice of remedy. Some 80 billion aspirin tablets are taken worldwide, every year, for all types of headaches including the excruciatingly painful form known as a migraine. That's a lot of pharmacological muscle."

If you think this was written by an advertising executive for a pharmaceutical company you would be incorrect.

Disturbingly, it was actually taken from a reputable internet site offering health advice to the general public.

However there is no doubt that pharmaceutical advertising helps foster the idea that medication can provide solutions to all of your health problems.

This is an excerpt from Stop Headaches Naturally Chapter 6.6 - The promise - the lure of the quick fix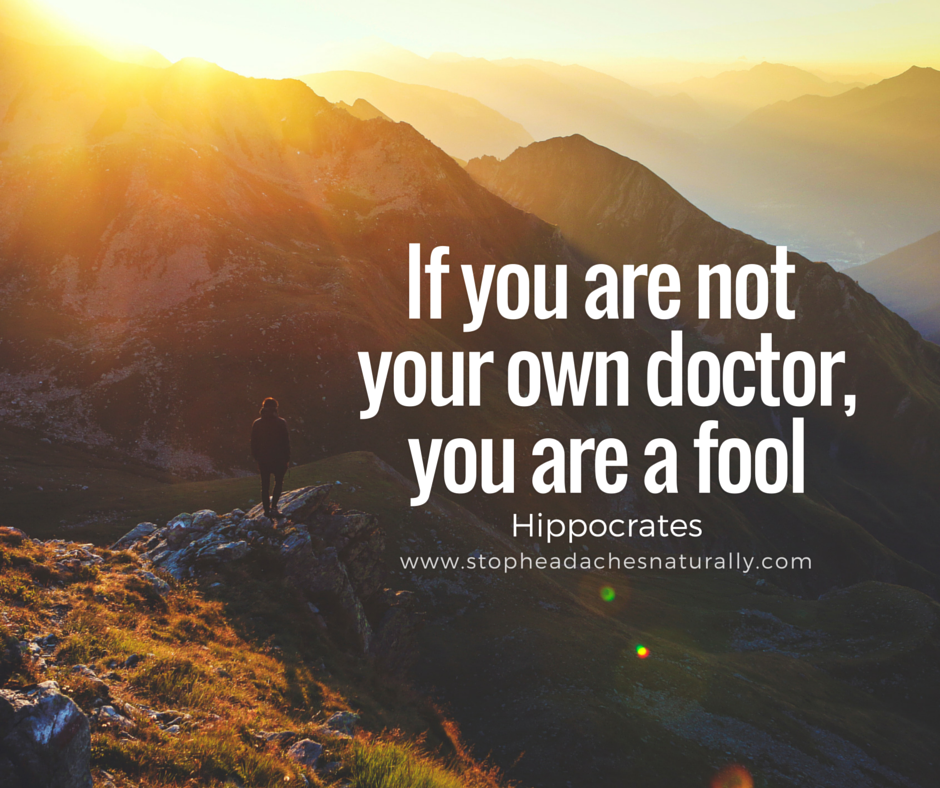 Even though there is so much information that can be found on the internet or health related Apps for your smart phone, one should NEVER self-diagnose or self medicate… leave that role for a well educated and qualified doctor.

But I do believe that the best medicine is prevention. For that to occur you need to take more of an active role in prescribing some of the most beneficial and effective medicine for yourself and become your own 'doctor.'

"The best medicine is prevention"


Here is some 'medicine' that you can begin to take:


Healthy & Varied Diet

Exercise - cardio, strength & stretch

Sleep

Diaphragmatic breathing

Laughter

Keep hydrated

Sunshine

Positive attitude

Pilates

Manual Therapy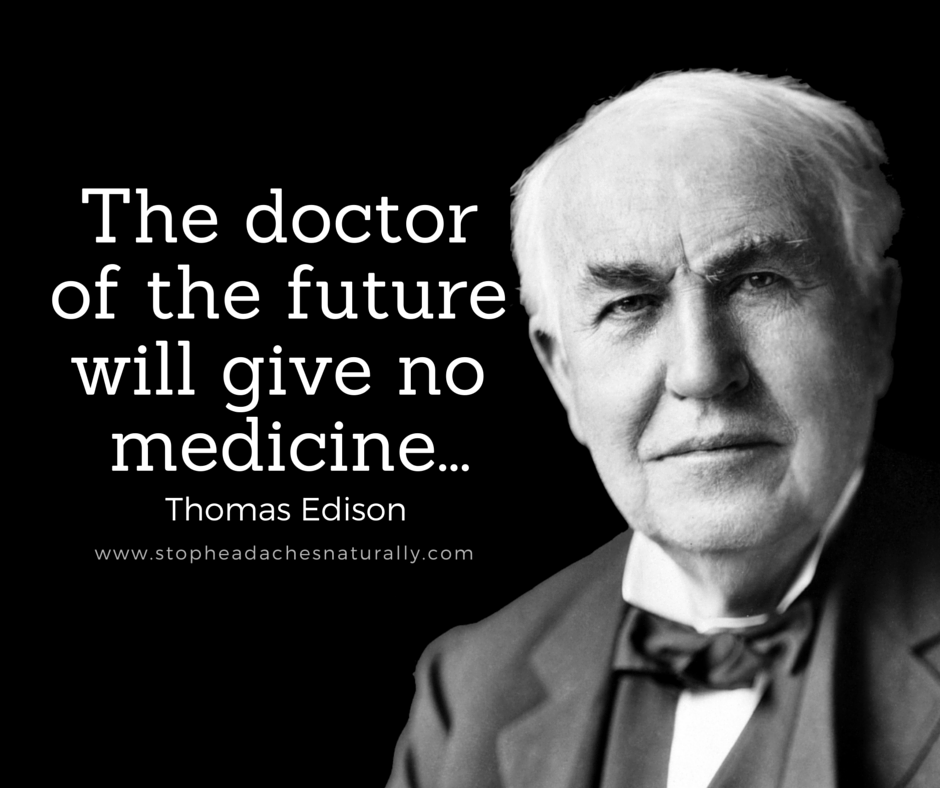 "The doctor of the future will give no medicine, but will interest his patients in the care of the human body, in diet, and in the cause and prevention of disease."
Thomas Edison

Although there have been many medical advances since Edison's time, the doctor is unfortunately still "giving medicine".

The traditional approach in Western ‎medicine has always been to diagnose a particular disease or condition from known symptoms and then to treat it with medication, surgery or various procedures.

This focus on diagnosis and treatment worked well for infectious diseases, but is not very useful for multi-factorial chronic diseases like cancer and cardiovascular ‎disease.

At the population level, the emphasis has shifted in favour of understanding the underlying causes of disease, and prevention through improvements to lifestyle.

However this has not really been translated to the individual patient-doctor consultation.

It is not just the doctor's fault – patient expectations also contribute to this situation. Patients sometimes complain they have not got value for money if they don't leave clutching a prescription, but just discuss factors like ‎diet, ‎exercise and sleep with their doctor.

Or if the doctor does recommend various lifestyle changes, patients frequently ignore this advice and keep looking for "the magic bullet".
And when the patient is in pain, many doctors feel helpless if they can't provide some form of pain relief.

This is an excerpt from Stop Headaches Naturally Chapter 6.8 - The focus of Western medicine is on treatment rather than prevention